Learning Intervals
Mallet Jazz
The Indie Music Forum
Deprogram
Vonne Andring
Royal Crusaders History
Music Teacher charts and information I like to keep handy.

Being a drummer trained with minimal melodic experience, I can attest to the value of the following basics. These charts, along with guitar chord, and chord progression maps, were vital toward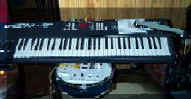 the completion of the first CD album:
A Drummers Laugh and eventually to: Wizard Obligation, which is a CD album which was recorded live as a Television show. The albums both feature a 9 page cover with art and information and many pictures. The Wizard Obligation CD can be put into any computer to see pictures and movies from the sixty minute TV show: 'Inside the Creative Mind with Vince Schaefer'.
Ideas from my head quickly became practical reality when adhering to the musical rules dictated in these charts. Screaming realistic sounding guitar parts along with funky bass lines were the result. My melodic skills have improved and my basic studio set-up is modern, and efficient, and universally applicable to the work and records done in other studios.
A basic method plan for drumming that has been tested many times is also included. Check California band, and Carrick band or Resume. Real Audio files are examples from the first lesson, under the: Free Internet Drum Lesson page!
I've much to put in here eventually. For now, check out these links and short Real Audio samples:
List of Continuous Controllers These are the controllers that add expression to music, such as: Aftertouch, Pitch Bend, Volume, Breath Control and more!

General MIDI drum list If everyone would just agree to put a snare drum or bass drum or tom, or cymbal on a certain m.i.d.i. number.....Oh, they did!

Chromatic Scales (singing) the words to sing chromatic scales

Minor Scales a reference chart for minor scales

Drum Lesson #1 a big lesson to get started, is a time tested beginning program, actually more than just one exercise!

Circle of 5ths important lesson with sharps and flats!

Space Dude sample of drummed music by soloist - This tune features funky drumming, along with a funky bass line, and some mellow guitar chords, offset by the conga oriented drum solo, and the sounds from space! Real Audio

Something I Had to Play Without You Some hand drum solo music, performed live and recorded for the album: A Drummers Laugh, by Vince Schaefer, featuring Conga, Djembe, Tabla, Talking Drum, and other percussion instruments.
Real Audio
To see the Vince Schaefer
CD's Click: Here