Evelyn Glennie -

Mallet Keyboard Specialist


Pierre Schaeffer -

Inventor of: Musique Concrete
Edgard Varese -


"I long for instruments obedient to my thought and whim, with their contribution of a whole new world of unsuspected sounds which will lend themselves to the exigencies of my inner rhythm"
Carrick High School was always an exciting competitor!
During my five year teaching tenure at Carrick starting in 1979, made many great memories including a 3rd place overall drum line finish at finals. Hats off to Norwin High School and Southern High School the #1 and #2 finishers. Three tenths separated the field. Hard to believe we went through 3 different band directors throughout the five years. Director, Katy Vogt ended up with the most trophies,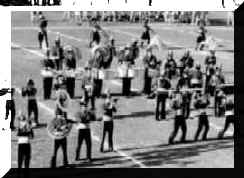 a consequence of the almost undefeated season. After winning 14 shows, 95% of the captions, we lost at Championships. The trophies still over-flowed the table at the banquet, and our 18 horns had big fun many times beating other 40 person horn-lines. After Katy did it at Bishop Boyle with 8 horns, beating many larger, more experienced lines, our destiny was predetermined! My best man at my wedding was: Jon Pieffer, one of the SuperTenors. High and Low tenor lines, were a first for marching band. This band was also one of the first to switch to harnesses, instead of slings to carry the drums; and, one of the first to utilize a 'grounded pit', of concert percussion instruments. Our relatively small horn ensemble was enhanced and supported by a Tympani player with suspended drumset cymbals, Vibes, Marimba, Glockenspiel, and Xylophone.

Click below to hear some real audio from Carrick! The first season ended with good comments from judge: Dave Lorenzi, a good friend I'd marched, and drummed with before. My first teacher: Denny Trozzo, also adjudicated our program, and taught me throughout my marching career, from: Modernettes, to Silver Sabres, to Finleyville! Always a comedian and great teacher, friend, and mentor.
Katy Vogt is still in the practice of beating up on large horn-lines while she directs the band at: Hanahan SC. These guys have pages of awards! Katy made Carrick a champion!