Evelyn Glennie -

Mallet Keyboard Specialist


Pierre Schaeffer -

Inventor of: Musique Concrete
Edgard Varese -


"I long for instruments obedient to my thought and whim, with their contribution of a whole new world of unsuspected sounds which will lend themselves to the exigencies of my inner rhythm"
Ferruccio Busoni -

Prophet of modern electronic music
Ruth Underwood - Mallet Player

for Frank Zappa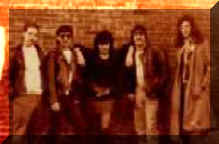 The Rx Band,

under the musical direction of Vince Schaefer, were a progressive rock band, playing a diverse selection of music including: Phil Collins, Billy Cobham, Jethro Tull, Lenny White, Robert Palmer, Omar Hakim, Cream, The Cars, Prince, Zappa, Santana, Robert Palmer, ZZ Top, Jimi Hendrix, The Hooters, and many others. Other members included Kitty Smith on keyboards, Marty Urich on Bass, Carl Black on guitar, and John singing. Experience with midi sequencing was valuable, leading to the Neon Kraze job, that was dance oriented and relied heavily on sequenced parts to accurately render the music played. We used a Roland TR-909 machine linked by MIDI to an Ensoniq ESQ-1 multi-timbral keyboard, to accomplish sequenced parts, though none of the music samples below use a sequencer. I'd say we sequenced a total 10 songs, that we performed live.
Tunes were recorded as a 4 song demo at the Pasadena St. studio in Mount Washington, by engineer Doug Heaps, (produced by Vince) on a Yamaha 4 -track cassette deck. Funny story; Pete Tambellini from Entertainment Unlimited (Pittsburgh) never believed it was a home recording. Upon seeing the band perform live he was duly impressed. Carl Black and I had both worked for him in the past; he should have known we'd rock!