Evelyn Glennie -

Mallet Keyboard Specialist


Pierre Schaeffer -

Inventor of: Musique Concrete
Edgard Varese -


"I long for instruments obedient to my thought and whim, with their contribution of a whole new world of unsuspected sounds which will lend themselves to the exigencies of my inner rhythm"
Ferruccio Busoni -

Prophet of modern electronic music
Ruth Underwood - Mallet Player

for Frank Zappa
Energy Rush, a classic example of good drumming in the 80's by Vince Schaefer.
ER under the management of Contemporary Artists, was high energy dance, playing music from the Billboard Hot-100 list, as well as originals.
Working six nights a week at some of the hottest clubs, ER considered to be the most versatile band on tour in Southern Florida and 'the Keys' at the time, were held over for thirteen weeks at the Pier House in Key West to guarantee availability and participation in the week long, annual Fantasy-Fest celebration. Though the group lasted only a year, because of other commitments, they built a repertoire of over 400 tunes including 20 regularly played originals. Vince Schaefer is pictured playing bass, though actually the drummer!
To hear a 'Real Audio' Introduction of the band, Click Here!
Vince drummed a basic 5 piece kit, with a tymbali/cowbell and a Simmons 1 electric drum added. The Simmons either was a clap sample or it was triggered from the snare drum, giving the popular sustained snare sound popular at that time. The kit was a black Rogers 8 ply Maple, with blue Evans Hydraulic heads. The sizes for that tour were: 12", 14", 16", and 24" with a deep 14" maple snare drum. Remo Pinstripe on the snare, Remo Starfire (chrome pinstripe) on the bass. Zildjian cymbals with 14" New Beats that I drilled, 12" splash, 16" medium thin crash, 18" crash-ride, 20" high china-boy. Roger always sounded like a million bucks.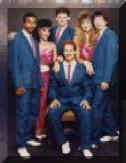 Real Audio samples of Energy Rush, below!
To hear what we played as dinner music, Click Here: The World is A Ghetto which was recorded at: The Top Of The Mast, in Fort Meyers beach Florida. Two more examples from the Fort Meyers gig, which was one of our first jobs in Real Audio format are: Shakedown, by Sob Segar; and Sign of the Times, by Prince.
One of our most fun jobs was the Pier House in Key West. Many times we opened our 'dance set' with: Serious or played the Natalie Cole tune: Jump Start my Heart, or finished up a set with some Sly and the family Stone.
Dennis Star was musical director, vocals and bass player, Rob Tuner on guitar and vocals, Cindy Cali singing, Jay Harris on keyboard and vocals, and Victor London sang and drummed (Casio CZ-1 sampling drum machine) and mixed sound. Everyone sang lead on something, and new tunes were cranked out constantly. We could play just about any tune requested, and we specialized in making people dance and drink. Parliament, Prince, the Time, Jesse Johnson, Janet or Michael Jackson, Levert, Sheila E., and Sly and the Family Stone, as well as the Billboard magazine Hot-100 list made up the repertoire of this high energy group. Becky Lewis was one of our best friends from Key West, and was gracious enough to let us stay at her home during hurricane: Floyd!
Click for more information on Vince Schaefer